Owl Mountain Models
News for Dec 2017 - Merry Christmas!
Well, Thanksgiving has passed. The temperature is about 5F, snow's not on the ground as yet, but Christmas is the next station stop. We're happy to announce that the F-50-series kits are back! The new lumber loads are still coming, but have been delayed until early 2018. We're looking forward to many new projects in 2018 as well, so check back often for updates.
Update on F-50-Series - Back In-Stock!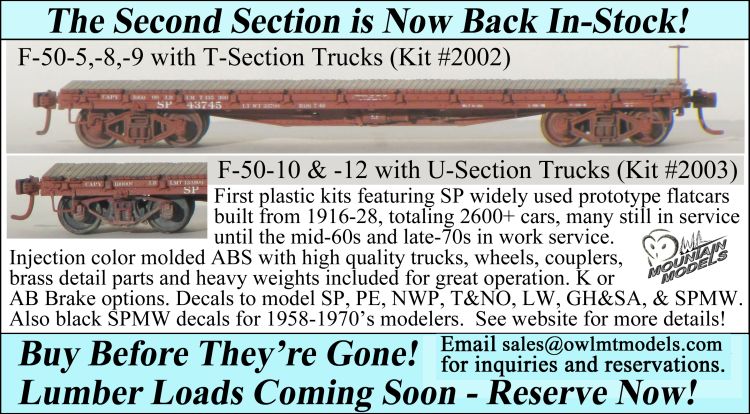 Future Projects for 2018 and Beyond.
Between everything else we're still working on our future projects and several others that haven't been announced!
New Lumber Loads - Expected in Early 2018
OwlMtModels is also looking forward to our next Modular Lumber Load Kit to go with the new F-50-series cars. This new kit will be a "Narrow" lumber load suitable for gondolas and the narrower F-50-series flatcar decks.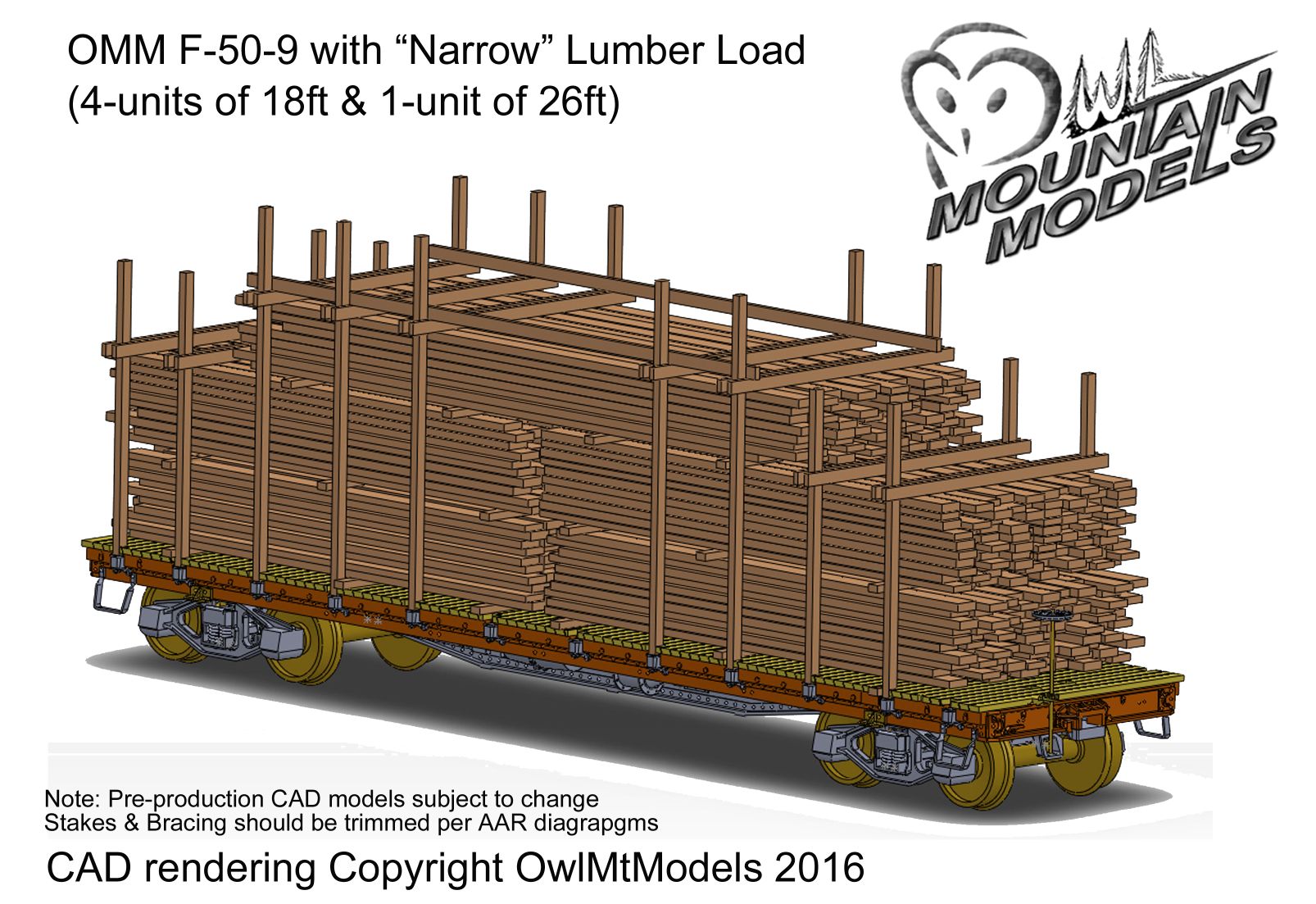 In addition, a second kit with extra lumber parts will be offered to fit 52-60ft flatcars and gondolas.
F-50-Series Add-on Kits
These will be small mini-kits which can be added to appropriate F-50-series flatcar kits to make unique and special assignment cars.
SP 36" Sideboards (SP Style) - These should be added to cars modeling SPdeM and UP F-50-4s as-built. Many T&NO cars had sideboards fitted for stone loading and other assignments. SPMW Supply Flats often had sideboards as well, when delivering smaller items such as barrels, kegs, boxes, etc.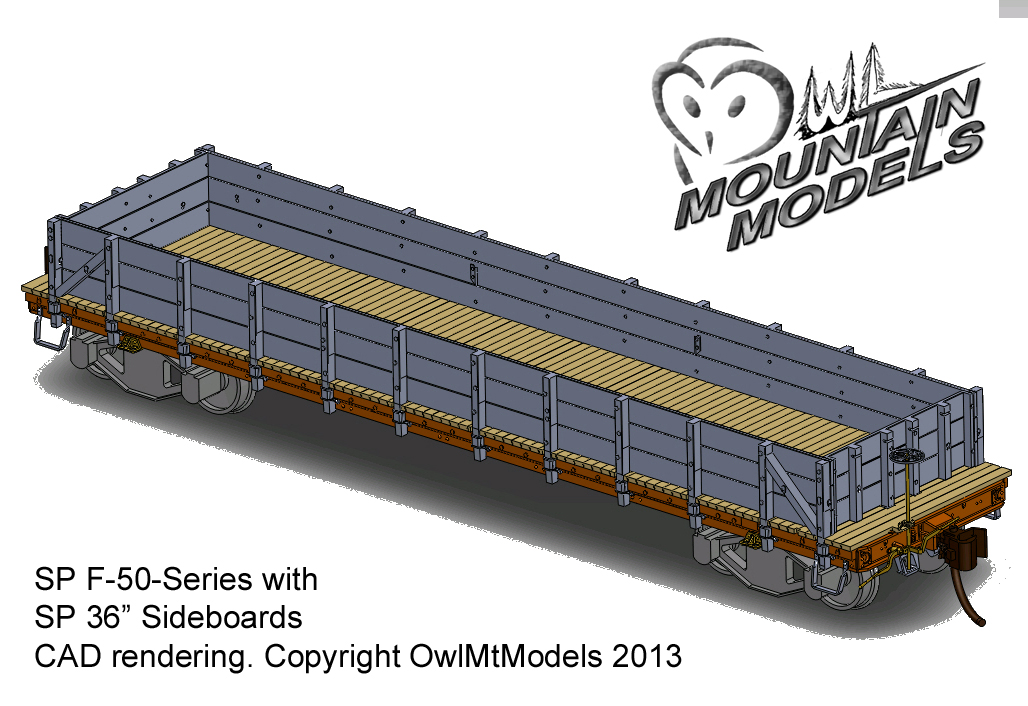 Picture from several years ago of our early rendering of a the SP 36" Sideboard set. These will be injection molded with wire tie-rods and etchings for the internal braces.
"Beet Rack" - Blackburn-style (1930's-1950 version) - This rack sat on top of the car with turnbuckle rods to the corners of the car. The Blackburn design had four large side doors and no vertical stakes mounting into the stake pockets. This rack was in regular service until the G-50-20 and G-50-23 cars were delivered in 1949.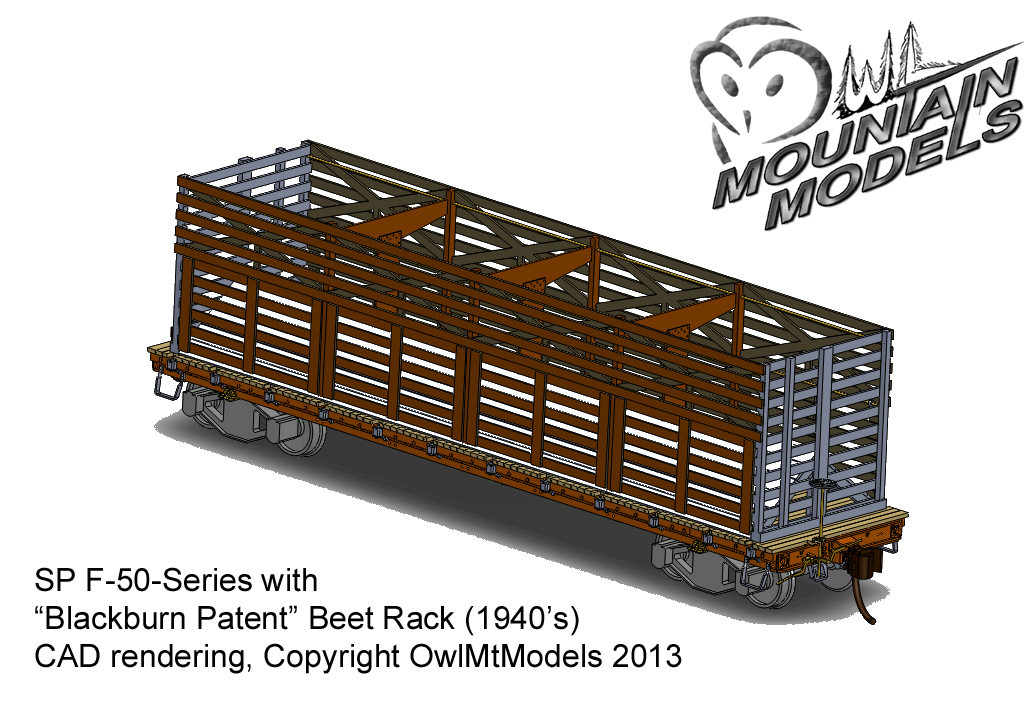 Picture from several years ago of our early rendering of a Blackburn Rack. These will be injection molded with wire tie-rods. We also plan to made a removable 'beet load' and side pieces to make the car look correct when loaded!
Additional Future Projects
OMM #2001 SP F-50-4 Single-Beam Centersill Harriman Flatcar Kit

The next step in the F-50-Series of projects will be the #2001 & #2006 Kits for the F-50-4, with new tooling for the single-beam underframe and new brake detail and parts.
This will allow correct F-50-4 class models to be built of the 1500 cars for SP and SP Subsidiaries; NWP, PE, SPdeM (SP of Mexico), CP, O&C, AE, GH&SA (Laster T&NO). This will be Kit #2001. SPMW received F-50-4s starting about 1937 and mostly ending in about 1951-52, according to the 1956 SPMW Roster. Many others went into logging service as LF-50-series cars in 1952 (see further ideas for those below).
OMM #2006 UP F-50-4 Single-Beam Centersill Harriman Flatcar Kit

The #2006 kit will be for the 300 UP and OR&N F-50-4 cars, and in addition to the tooling upgrades for #2001, this kit will have a new set decals - probably a two color set with white and yellow lettering styles.
OMM #2007 UP F-50-5, UP F-50-6 & UP F-50-7 class cars – UP's family of F-50-series cars

More research will be needed on the UP roster of flatcars for these classes of cars. From what information we do have, there were over 1500 cars in these classes. These cars had different side sills and end sills than the F-50-4 and SP designs, so these UP classes will require extra tooling to produce. Hopefully this kit can use the same decals which will be done for the #2006 kit (above).
Possible F-50-Series Projects or Refitting Kits
OwlMtModels in the future hopes to continue to expand this series of models based on the F-50-series flatcar. Which of these projects will get enough interest to justify injection molded tooling is a bridge we will come to after the currently planned F-50-4,-5,-8,-9,-10,&-12 (2001, 2002 & 2003) kits are released.
Some ideas include the SP LF-50-4,-5,-8,-9,-10,-12 type logging flatcar and SPMW Wheel flatcars (with wheel racks).
There are some other interesting add-ons we are considering and our friends in the modeling community have asked us to look into. While we may move forward on them at some point, we are focusing on the main car kits and the add-ons listed above as our priority.
Link back to Home Page